Hanging Your Painting – A Few Things to Keep in Mind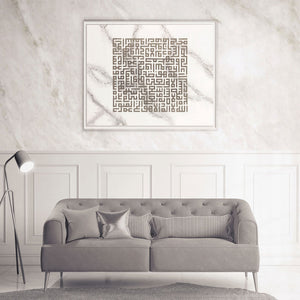 We hope that you've found a print or painting on our website that inspires you. Perhaps you've excitedly ordered something and you're just waiting for it to arrive on your doorstep.
But there's a slight problem. You don't have any experience with DIY. You're about to receive a potentially heavy print or painting and you're going to have to hang it up.
What do you do?
Of course, it's easy for people to say that you just need to knock a nail into a wall and hang the picture.
But you want to make sure it looks good and avoid causing any damage to the art or the wall.
Here are a few things to keep in mind.
Always Check the Wall First
Preparation is the key to successfully hanging a piece of art. You may not think that you need to do a lot of work here. However, you'd be wrong.
The material used for your wall is your first concern. If it's solid brick, do you have a drill or something suitably powerful to drill through it? If it's not solid brick, are you sure that it can sustain the weight of the artwork? You don't want to hang something only for it to damage the wall. Plaster, in particular, can be very fragile if you're not careful.
Here's another question.
Are you sure there aren't any pipes or live wires behind the wall that a nail could pierce?
It may seem like a strange question. However, many people have drilled nails and screws into their water pipes because they didn't check before starting their work.
Most hardware stores offer pipe and live wire detectors that you can use to make sure everything's safe.
Choosing Your Hanger
Again, this isn't always as simple as knocking a nail into a wall. That works fine for lightweight pieces, but you need something sturdier for heavy pieces.
A mid-weight piece needs a little extra support. We recommend using picture hangers for those.
For heavyweight pieces, you need a large strong nail to hang the art. It's also a good idea to get some wall plug anchors that you can insert screws into. This will give the piece extra support and ensure that all of the weight isn't just concentrated on a single nail.
Of course, you don't want to use nails at all if you're hanging the art on glass. We recommend some adhesive hooks for that. It's also not a good idea to hand heavyweight pieces on glass. The weight could cause problems for the glass. Plus, it's likely that you'll struggle to find adhesive hooks that can actually support the weight.
Getting it Straight
A spirit level is your tool of choice for ensuring you hang the picture straight. Just pop it along the top of the frame and make sure the bubble arrives in the middle.
Of course, you might want to hang the picture crooked to give the room a different type of flair.
The Final Word
We thank you again for buying a piece from Asheeq. Hopefully, these pointers will help you to hang it without causing any damage.
We also encourage you to
check out our other pieces

.
We're sure you'll find something that will look great on your wall.
Leave a comment
Comments will be approved before showing up.